Halo Board 1000 Miles Review – Today, I'm going to be reviewing the halo board. Is it still good in 2020? Let's find out, the top speed of 22 miles per hour, in a range of 14 miles, full carbon fiber body putting. The board at just 14 pounds, brushless, hub motors packing 3000 watts of power, and a regenerative braking system.
Halo Board 1000 Miles Review
Is it still good after 1000 miles?
Halo board has all the features but the real question is, is it still good in 2021? With so many newer boards, and newer companies getting into the electric skateboarding business, halo board was my primary reward for almost a year, and even after a thousand miles on it.  It stayed in pretty good shape.
The only downsides I've found to the board are the range and the toughness of it. The range isn't horrible, but it could be better considering the price. There is an easy fix to the range, and that's to use it as a traditional skateboard after it dies, or just to put it in your backpack since it's so light.
The other downsides about the board are, that it feels very fragile, and since the body is one-piece carbon fiber, the slightest crack would make it very expensive to fix. However, the style and portability of the halo board beat out all its downsides even with a thousand-dollar price tag.
I'm looking forward to seeing how halo board can withstand against boards like boosted evolve and act on I put a link down below if you're interested in buying the halo board.
View More Halo Board Helpful Reviews

Halo Board Beast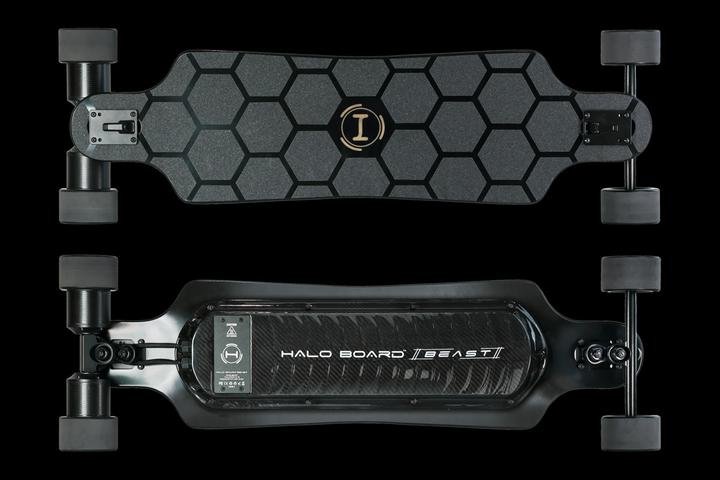 Halo Board Beast
Price: $1,297.00
Halo Board Beast – Ranked Best Electric Skateboard 2021, Electric Skateboard Beast Edition, This board is very fun to ride, and it's powerful! I purchased the board during quarantine and I didn't know anything about skateboarding/longboarding. After a couple of trips, I got the hang of it, and I can't imagine going out without it.
Other Articles Review